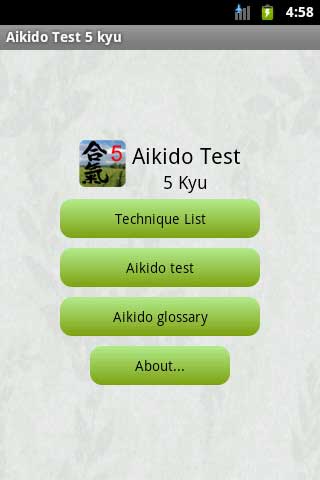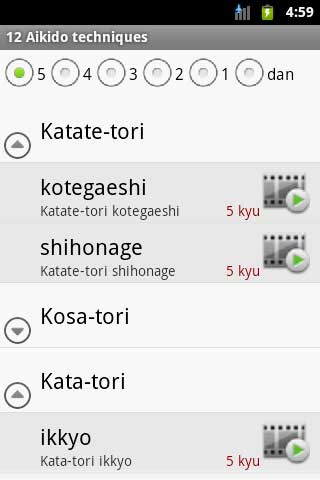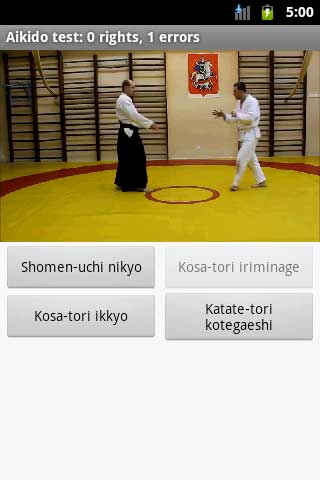 Aikido Test - List of the Aikido Techniques with video
Aikido Test is a mobile application for the study Aikido. The program will be with you on the way of Aikido from the initial degree of 5kyu to a 1st dan.
The program contains a catalog of titles techniques of Aikido (174) and videos of many techniques (110). You can choose degree qualification that will be shown in the list of techniques.
The program will test your knowledge of aikido techniques in "Aikido Test" section.
To view the video you do not require an Internet connection. You choose the name of the technique that interests you, and see the reception performance.
The program does not replace a good instructor and your persistent training, but will remember the names of techniques and schemes for their implementation.
If you go to the exam on the subway or bus, our mobile application will be with you until the start of certification. For safety reasons, do not use it while driving!
There is a desktop version for MS Windows. Available free lite version for Windows (5 kyu). You can get the full version for Windows with 110 video. For ordering full version use button bellow or write me by e-mail
Free download for Windows Buy Windows version
At the moment, we have prepared a video for the certification of a 5, 4, 3, 2 kyu (110 techniques). The program will be upgraded together with you. It will add new videos and updated existing ones.
Download 5 kyu FREE Version
|
Download 4 kyu Version
|
Download 2 kyu Version